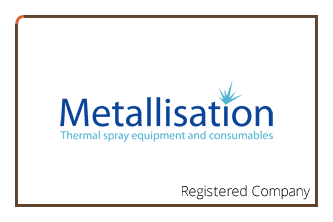 Metallisation
Metallisation, founded in 1922, is a supplier of thermal spray equipment to the UK and worldwide through a network of 30 distributors and resellers. We offer a full range of thermal spray products from Flamespray through Arc, Plasma, HVOF and Laser cladding equipment. We can offer turn key solutions and support users with all their material and consumable requirements.
Metallisation offers a full range of training courses to suit the needs of our wide range of customers and we see training as a very important part of our offer. Without training, users risk exposing operators to safety issues and also run the risk of applying poor quality coatings inefficiently. By taking one of our tailored training courses, you can be safe in the knowledge that the equipment will be used safely and correctly.
Courses offered include:
Introduction to Operation, Maintenance and Coating Application
EN ISO 14918:2018 Operator Preparation Training Course
Bespoke training can also be arranged depending on a users requirements.
We are also able to offer, in collaboration with the Thermal Spray and Surface Engineering Association (TSSEA), independent certification of operators in accordance with EN ISO 14918 standard.
We have a dedicated training room and a number of spray booths available for training purposes. The facilities are available to prepare small components to the required standard prior to the coating process. All test equipment is available to perform all the necessary process training, from profile measurements through to adhesion testing if required. It is though recommended that, if possible, all trainees use their own measurement equipment for training purpose if working towards EN ISO14918 certification. This is to ensure familiarity with equipment used through the training and assessment process. (I would suggest as 14918 certification is the desired end result of the TTP course, the use of a attendees on measuring equipment is recommended though not necessary.)
Metallisation believe in the continued development of both its products and process. We undertake R&D projects relating to specific equipment developments or new application development. Projects are often completed in collaboration with industrial partners, research institutes. The projects are often partially or fully grant funded.
As would be expected, the detail of the current and historic projects are covered by non-disclosure agreement. However, one of the projects that we have undertaken has some public information available and called is the FLARE project. In collaboration with Rolls-Royce and Nottingham University, the Innovate UK funded project has sought to miniaturise the ceramic thermal spray process to enable in-situ patch repair of thermal barrier coatings in turbine engines.
Metallisation's commitment and services are available to all of its customers in both the UK and Worldwide.
A video outlining the project success to date can be viewed at:
https://twitter.com/rollsroyce/status/1143162427481186306?lang=en