Passive Fire Protection – do it right!
Passive Fire Protection (PFP) coatings for steel structures includes various materials such as ablative and intumescent systems. The application of these coatings must be done by a trained professional – and here's why…
What are PFP coatings?
One example of an increasingly used PFP Coating is intumescent. These coatings swell (intumesce) to provide a charred layer when exposed to high temperatures. The charred layer reduces the rate of temperature rise in the steel and prolongs the steel load bearing capacity. Intumescent coatings are applied to steel buildings either on or off sites, to prevent structural failure in the event of fire.
So, it is essential that these coatings are applied by trained and qualified coating applicators.
Why should PFP be applied by a trained applicator?
Applying an intumescent coating is an effective way of providing passive fire protection to load-bearing structures in the construction industry, especially structural steel. Steel elements can be protected for up to three hours through the application of PFP.
Applying this expensive product correctly and ensuring common problems such as orange peel and paint sagging are avoided, is essential. Having the knowledge of proper application processes, ensures paint is applied correctly the first time, no paint is wasted and projects do not overrun.
Ultimately, thorough and correct training in Thin Film Intumescent Coating saves time, money and more importantly, lives.
PFP industry careers
As a trained Fireproofing Inspector, individuals should be able to describe different types of fires and fire protection, as well as explain how thick film and thin film intumescent coatings work. This will allow them to better understand the role of the various fire safety measures in the built environment, and in particular, passive fire protection.
We have developed an online Fireproofing Inspection course to meet industry demands around the world.
By studying our 3 day Thin Film Intumescent Course, Paint Applicators working within any sector can now extend their current offerings. Raise industry standards by setting the bar high, with professional, consistent and reliable intumescent paint application.
After gaining this industry qualification, you will receive a 5 year TTP ID card accredited by ASFP, BRE and with CSCS approval.
Why train with the Corrodere Academy?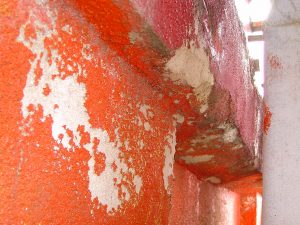 Our thin film intumescent course is accredited by ASFP. In 2003 they reported on the passive fire protection of some large public buildings in conjunction with BRE. The report found that there were widespread deficiencies of fire protection caused by poor design, the use of unskilled labour, and corner-cutting. The report concluded that there might be a catastrophic fire associated with these issues if not addressed.
Since incidents, such as the Grenfell Tower disaster in 2017, intumescent coatings are becoming a more prevalent feature in many industries.
Developing the first and only accredited Thin Film Intumescent coatings course in the UK, we are delighted to have received accreditation from industry experts BRE, ASFP, Lloyd's Register and CSCS.
To find out more about how Passive Fire Protection courses could aid you or your business, get in touch with the Corrodere team on info@corrodere.com